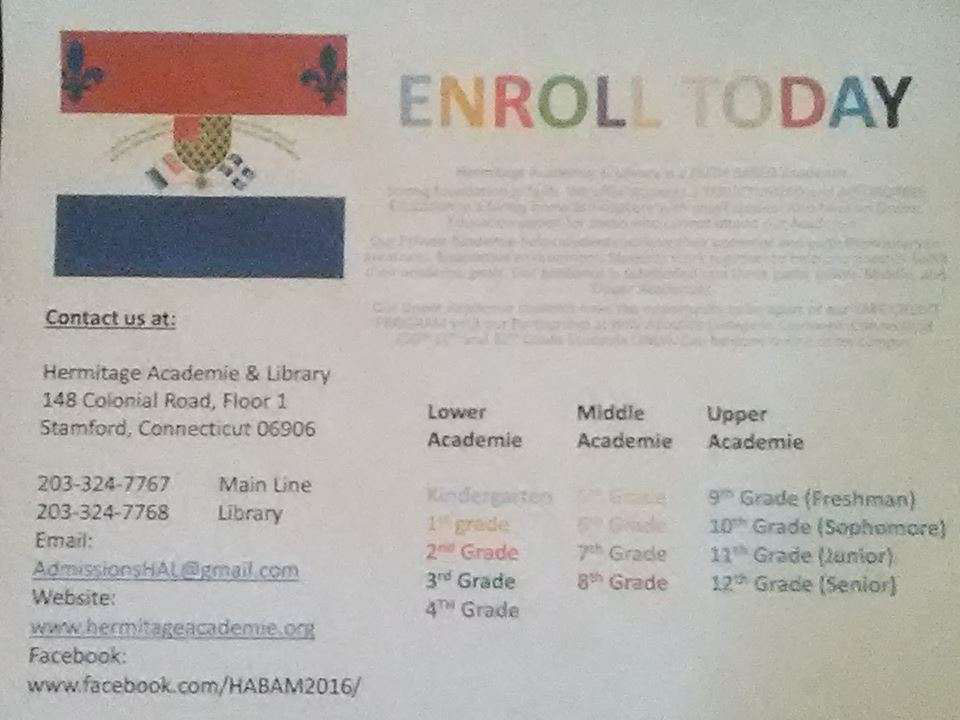 What we offer
Hermitage Academie & Library is an Academic , Arts & Theological Orthodox Christian Private Academie. We are accredited through Abeka Curriculum offering students Locally , Nationally and Internationally a grounded education. We also work for those wanting Homeschooling option, but also need some full support in small class grouping home style setting. So whether your in class or online Here in Stamford , Connecticut USA or Overseas you can be supported with a christian faith based education. Many programs/electives to choose from.( In class/campus regional ONLY ). Pre-Kindergarten to 12th grades Adult Continuing Education for older individuals. 10th , 11th, and 12th graders can take our Take credit program through our Partnership with Holy Apostles College in Cromwell, Connecticut USA. ( Adults wanting to go back to college can also apply to this program).
Some of our electives and programs are Hermitage Academie Library Sustainability Programme, pASamc is Hermitage Academie & Library's sacred music conservatory programme.
pASamc stands for
patriarch's Alexey II & Shenouda III sacred art / music conservatory,
and Hermitage Academie & Library Equestrian Programme, Farming, Beekeeping, Urban gardening, Incubating /hatching/raising ducklings and much more .. All students also an extended list of Hobby, art, workshops, and classes offered in our Adult Continuing Education at their disposal for elective classes.
Our Academie is all about Community Faith , Academics. We strive and believe in Affordability , Sustainability, Enlightenment , Spirituality, and Creativity.
Classes are in small groups 1:4, 1:8, 1:12 ( Teacher /students rations)
Classrooms have a homely setting and feel to help students feel relaxed and stay focused. All classes are mixed grades . as we believe in working together and guiding one another from Teachers to students at the highest to the lowest grades. Team building always. Our environment is all about nurturing to help you become the well grounded , faithful , intelligent, and successful individuals.